Retractable Insect screen manufacturer and distributor, Freedom Retractable Screens has added the new ZL2 integrated retractable screen to its' product range at the ideal time for homes currently being constructed or renovated to be ready for the Australian Summer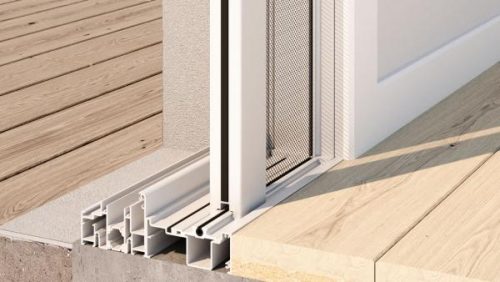 Currumbin Waters, Australia - May 21, 2019 /PressCable/ —
New integrated insect screen system released, ideal for homeowners constructing, renovating or planning renovations in time for the Australian summer, when mosquito activity is rampant.
Retractable Insect screen manufacturer and distributor, Freedom Retractable Screens has added the new ZL2 integrated retractable screen to its' product range at the ideal time for homes currently being constructed or renovated to be ready for the Australian Summer, when mosquitos are most active and the threats of mosquito-borne diseases are greatest.
Given the recent concerns about Ross River Virus and Dengue Fever, just two of the many diseases mosquitos have the potential to spread, Australians are being urged to protect themselves. Ross River virus was detected in mosquitos collected in NSW and researchers warned of increased mosquito populations in Queensland and other parts of Australia, due to increased rainfall in certain areas. Homeowners are being warned that unsealed rainwater tanks are also a breeding ground for mosquitos.
Health experts have warned Australians not to become complacent about mosquito bites. NSW Health Pathology mosquito researcher, Dr Cameron Webb urged Australians to protect themselves from being bitten. One way of doing this he encouraged was with insect screens.
"Cover all windows, doors, vents and other entrances with insect screens", he said.
Source: https://www.northernstar.com.au/news/cold-weather-hasnt-deterred-the-mozzies/3726670/
Homeowners planning renovations or already involved in renovating or building their homes have the opportunity to incorporate a screening system into their plans that are sleek enough to complement their design and have them in place in time for summer. This is important for 2 reasons:
1) Summer is peak season for mosquitos, so their populations increase together with the risk of mosquito-borne diseases.
2) Given the heat of Summer, people are more likely to leave their doors and windows open to allow airflow in – if not covered with insect screens these are an unprotected entry point for mosquitos.
Freedom Screens owner, Tony Roberts advised anyone involved in new builds or renovations to consider having these discreet retractable insect screening systems fitted at this stage, for their convenience, and for an aesthetically pleasing outcome for their new home or renovation. He also advised them to do their homework, "look for a product that is not only aesthetically pleasing but practical and strong enough to withstand the harsh elements".
He went on to reassure homeowners that retractable insect screens no longer need to be bulky and unattractive, as to interfere with your home's design. Roberts stated, "The ZL2 Integrated range is ideally suited to new builds and renovations, with the 80mm screen spanning up to 4.5 metres in a single or 9 metres in a double span. The screen system can be discreetly built into the wall cavity for an even sleeker design aesthetic".
He emphasised the importance of a quality design which will last longer, be effective in keeping mosquitos and other insects out and save costs in the long run. "All Freedom Screen systems including the ZL2 Retractable Screen have proven to be incredibly strong, as NATA accredited tests prove. The ZL2 range also incorporates our patented braking system and fully anchored mesh to avoid mesh blow-outs on windy days", Roberts said.
Information and a video about the new integrated screen is featured on the company website.
Contact Info:
Name: Kathy Talbot
Email: Send Email
Organization: Freedom Retractable Screens
Address: 9 Traders Way, Currumbin Waters, QLD 4223, Australia
Phone: +61-1300-727-336
Website: https://www.freedomscreens.com.au
Source: PressCable
Release ID: 514950