In a recent appearance on television, Jason M. Ruedy, also known as The Home Loan Arranger, discussed the complications that some self-employed people face when applying for a mortgage.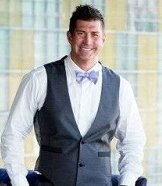 Denver, CO, USA - March 20, 2017 /MarketersMedia/ —
Mortgage Banker, Jason M. Ruedy, also known as The Home Loan Arranger, recently appeared on television to discuss several topics related to home loans, including the challenges that self-employed individuals and couples can face when applying for a mortgage.
During his March 7, 2017 segment on Colorado's Best, a KDVR Colorado's Own Chanel 2 television program that airs locally Monday through Friday at 9am Mountain Time, Mr. Ruedy told viewers he offers home loans that are tailored for the self-employed.
The March 7th episode of Colorado's Best was hosted by Ms. Paula Haddock and Ms. Sam Boik. Throughout the segment, Ms. Haddock and Ms. Boik asked Mr. Ruedy several questions related to home loan products available to home buyers and people who want to refinance their current loan.
With regard to self-employed individuals and couples, Mr. Ruedy stated that he can help self-employed borrowers who do not show significant income on their tax returns. He specifically said, "I have stated-income products and bank statement products available for self-employed borrowers."
As a 20-year veteran of the mortgage industry, Mr. Ruedy is well-aware of the challenges and difficulties faced by the self-employed when it comes to being approved for a home loan. This is the reason Mr. Ruedy decided to discuss this specific topic during his appearance on Colorado's Best.
Not only did Mr. Ruedy bring up the challenges faced by the self-employed, but he also examined the hurdles that individuals and couples with low credit scores can encounter when applying for a loan. Mr. Ruedy commented that he can write a loan for individuals and couples with credit scores as low as 500. Mr. Ruedy said, "My staff and I know how to structure loans and how to get loans closed with the least amount of hassle as possible."
Mr. Ruedy is a local mortgage broker in the Denver Metropolitan area who specializes in helping homeowners refinance their mortgages to obtain lower interest rate loans – while at the same time helping them consolidate debt. He also helps individuals obtain low-interest rate loans on a new residential real estate purchases.
"I offer some of the most aggressive interest rate loans in the nation, and I'm also offering to reimburse my clients up to $750 for their home appraisal at their loan closing. I'm a genuinely customer-focused mortgage broker, and I urge anyone looking to refinance a loan to act soon – before interest rates go up this year," said Mr. Ruedy.
About the Home Loan Arranger:
Mr. Jason M. Ruedy, also known as The Home Loan Arranger, has 20+ years of experience in the mortgage business. His company was built around the crucial principles of hard work, discipline, and determination. The Home Loan Arranger evaluates client applications quickly and efficiently and structures loans with the best possible terms. Mr. Ruedy is successful in achieving loan closings for clients while meeting their highest expectations. Jason M. Ruedy is ranked #1 in the state of Colorado by CMG Financial, and he is among the top 25 US producers according to Scotsman Guide, which is the top leading resource for mortgage originators.
For media inquiries, please contact Mr. Jason M. Ruedy, "The Home Loan Arranger":
The Home Loan Arranger
3255 S. Birch Street
Denver, CO 80222
Phone: (303) 862-4742
Toll Free: (877) 938-7501
http://www.thehomeloanarranger.com/
Contact Info:
Name: JASON. M RUEDY
Organization: THE HOME LOAN ARRANGER
Address: 3255 S BIRCH STREET DENVER, CO 80222 NMLS 39288, 269437
Phone: 303-862-4742
Source URL: http://marketersmedia.com/jason-m-ruedy-addresses-challenges-of-applying-for-a-home-loan-when-self-employed/177388
For more information, please visit http://WWW.THEHOMELOANARRANGER.COM
Source: MarketersMedia
Release ID: 177388